Community Outreach
This week the Office of Professional and Workforce Development (OPWD) wanted to highlight two employees for their efforts in implementing approaches that give back to the community.
In the front office lives a box open to blanket, jacket and other winter item donations for Grace Marketplace, a homeless shelter on a 10-year plan to end homelessness in the Alachua county area. Wanda O'Steen, one of our Administrative Support Assistants here at OPWD, heard about Grace Marketplace in 2015 when she met Jon, the president. Through combined efforts with her local church she has continuously given back to this nonprofit, and has decided to encourage coworkers at OPWD to participate in her philanthropic endeavors this year.
We are happy to report that the box is looking very full, and we hope to keep filling it up in the remaining weeks of winter. Wanda describes her experience as an "overwhelming joy to see that you can do so much for people that have so little," and we hope to support that effort throughout the year.
Additionally, a few boxes live in the Canteen for anyone to donate non-perishable food and toiletries for the UF Field and Fork Pantry. The UF Field and Fork pantry is an organization within the University of Florida that hopes to end food insecurities among UF staff and students. Vivian Li, our Solid Waste Coordinator for TREEO, took the initiative to place the boxes in the Canteen and notify our office so colleagues can donate food items at their convenience.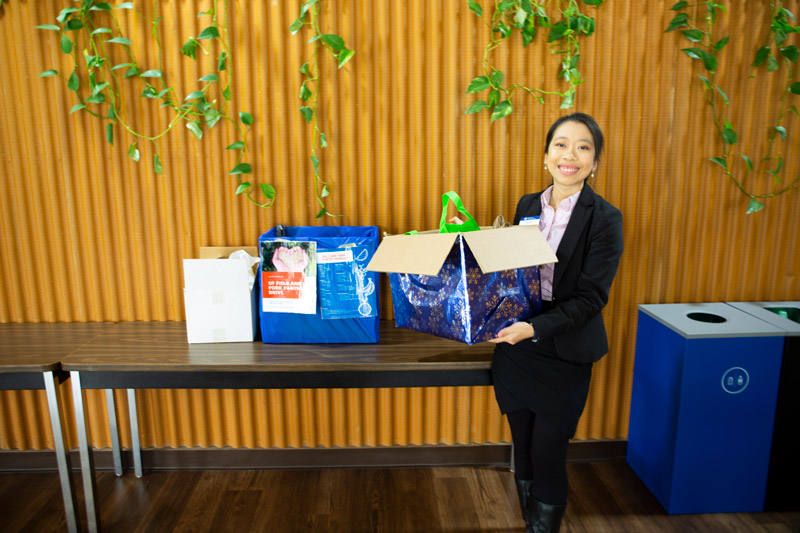 Vivian says she loves cooking, and at one point in her life experienced the food insecurity that the organization is working hard to extinguish. This sparked a passion for her to give back to the community, and we are proud that the box has been kept stocked since it's installation during the holiday season last year!
Written by:
Courtney Glancy
Published:
February 4, 2020
Keep up with all things OPWD by reading our office updates.
The Office of Professional and Workforce Development (OPWD) supports the Office of Teaching and Technology and the University of Florida in offering non-credit education for adult learners across multiple modalities.
Is there a topic under our umbrella that you would like to learn or see more about? Email Courtney Glancy at courtneyglancy@ufl.edu with your ideas.