Medical Credentialing Program
Medical Staff Credentialing and Privileging Program
The University of Florida Provider Credentialing and Privileging Program is an immersive and interactive six-module educational program designed to serve as a broad competency based educational experience.
The program is designed for professionals with responsibility and accountability for review and coordination of the credentialing and/or re-credentialing and privileging process for clinical providers (i.e. psychologists, nurse practitioners, physician assistants, physicians, chiropractors).
The program is asynchronous, allowing participants to start and stop the program based around the individual's schedule. Educational modules not only provide a broad oversight of government and commercial insurer regulations and requirements, but also provide participants with a 'tool-kit' of up-to-date resources for use beyond the program.
$349
100% Online
Approx 3 Months
6 Modules
Required Textbook
What You'll
Learn
Define what credentialing is and its crucial role and impact on healthcare delivery
Identify staff responsibilities for credentialing different types of patient care providers
Understand the 'why' behind credentialing tasks and processes at healthcare organizations
Identify and familiarize yourself with the items (applications/documents/resources) necessary to successfully complete a credentialing application.
Understand the critical importance of accuracy and completeness regarding credentialing application management.
Review credentialing processes and understand the relationship between the credentialing process and interactions with MCO / Insurance Payers.
Who

Should Attend

State and federal government healthcare representatives

Commercial insurance employees

Hospital and outpatient surgery employees

Medical practice administrators
Career
Insight
$41,938.34
National Median Salary
37,521
National Job Postings
$37,504
Florida Median Salary
2,490
Florida Job Postings
Program
Benefits
Program participants must successfully complete the course with a 70%ile passing score or higher to receive the Professional Certificate.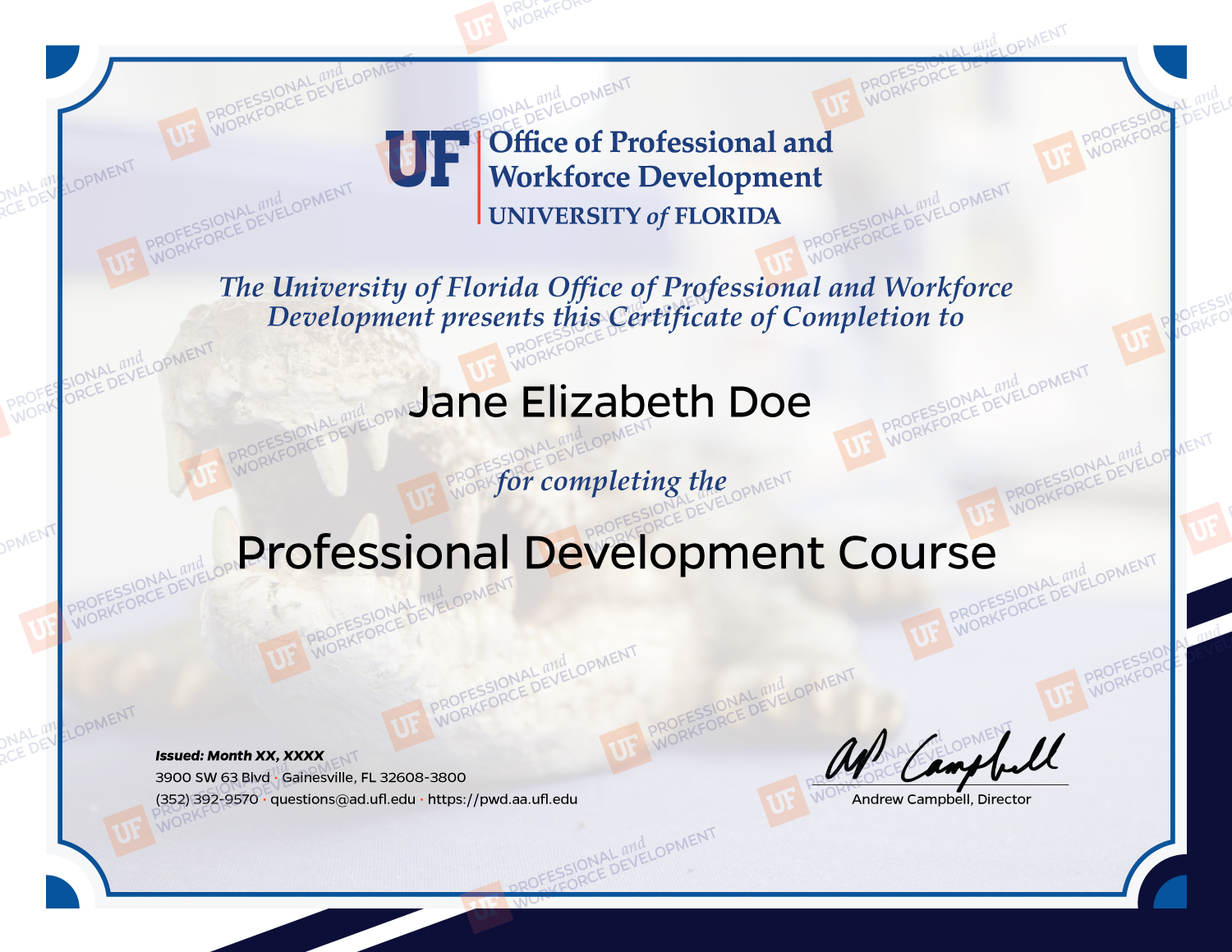 QUESTIONS? WE'RE HERE TO HELP