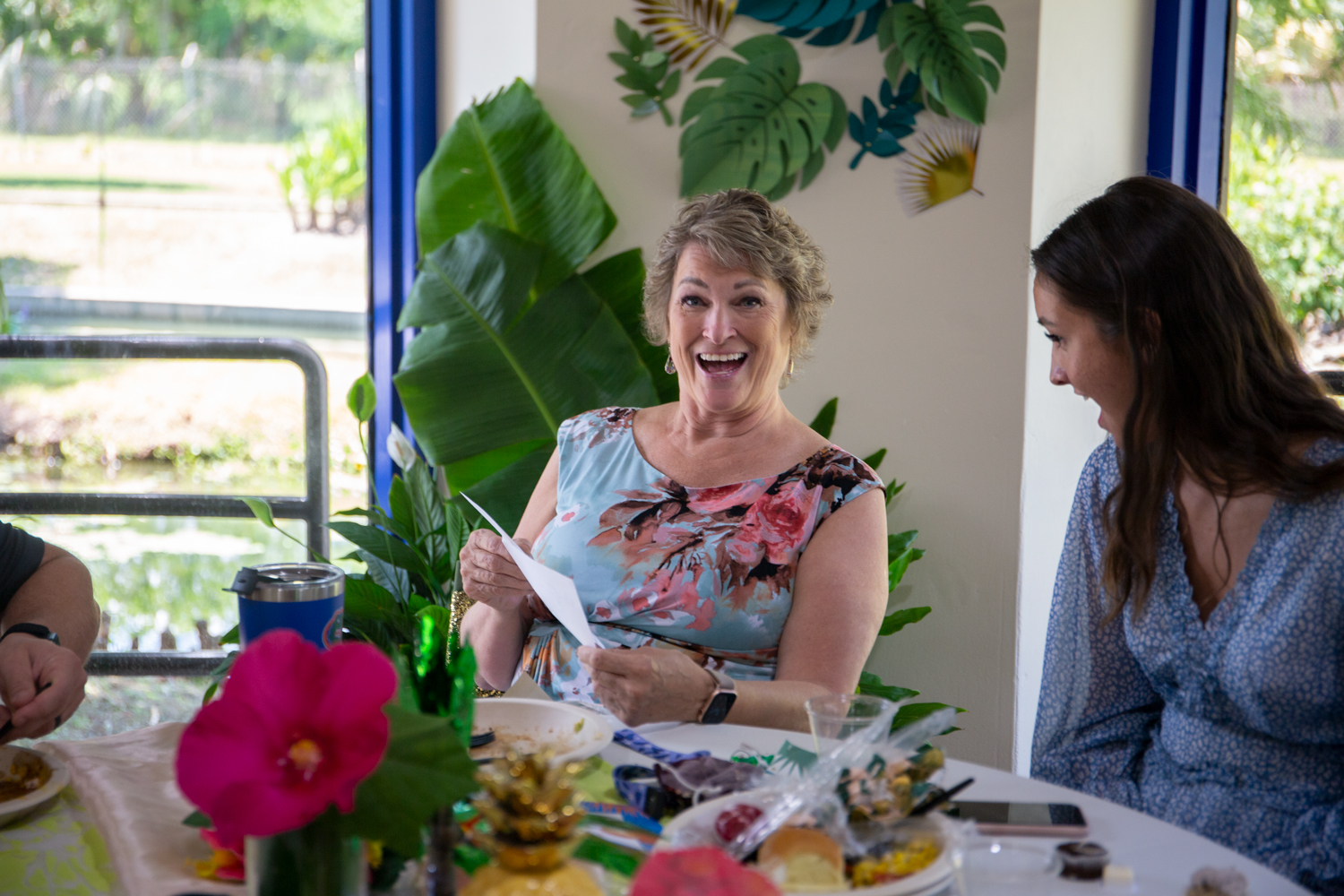 Carol Hinton's Career Celebration
The Office of Professional and Workforce Development (OPWD) celebrated Carol Hinton's career at the UF TREEO Center Thursday, May 27th. Family, friends and colleagues came together virtually and in-person to celebrate Carol, her accomplishments, and her impact at the University of Florida.
Guests played Carol Trivia, Carol BINGO, and OPWD Director Andrew Campbell gave a delightful presentation about Carol's career, and the legacy she has left for generations to come.
"Carol, your hard work and dedication to excellence made everyone around you better." – Andrew Campbell
Assistant Provost and Director for the Office of Distance Learning, Brian Marchman, also took the podium to say a few words for Carol.
"There's a light that is going to be gone when Carol leaves." – Brian Marchman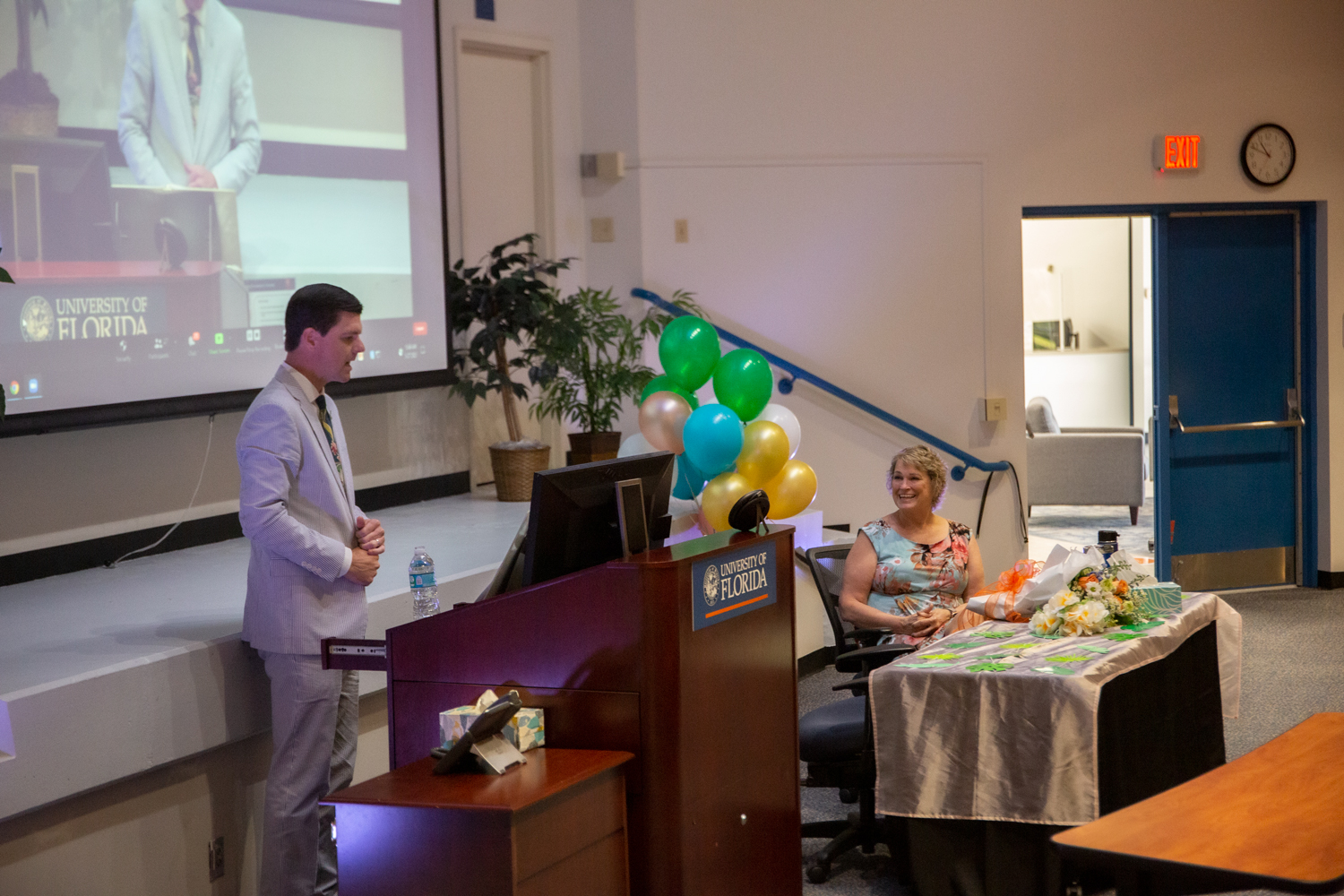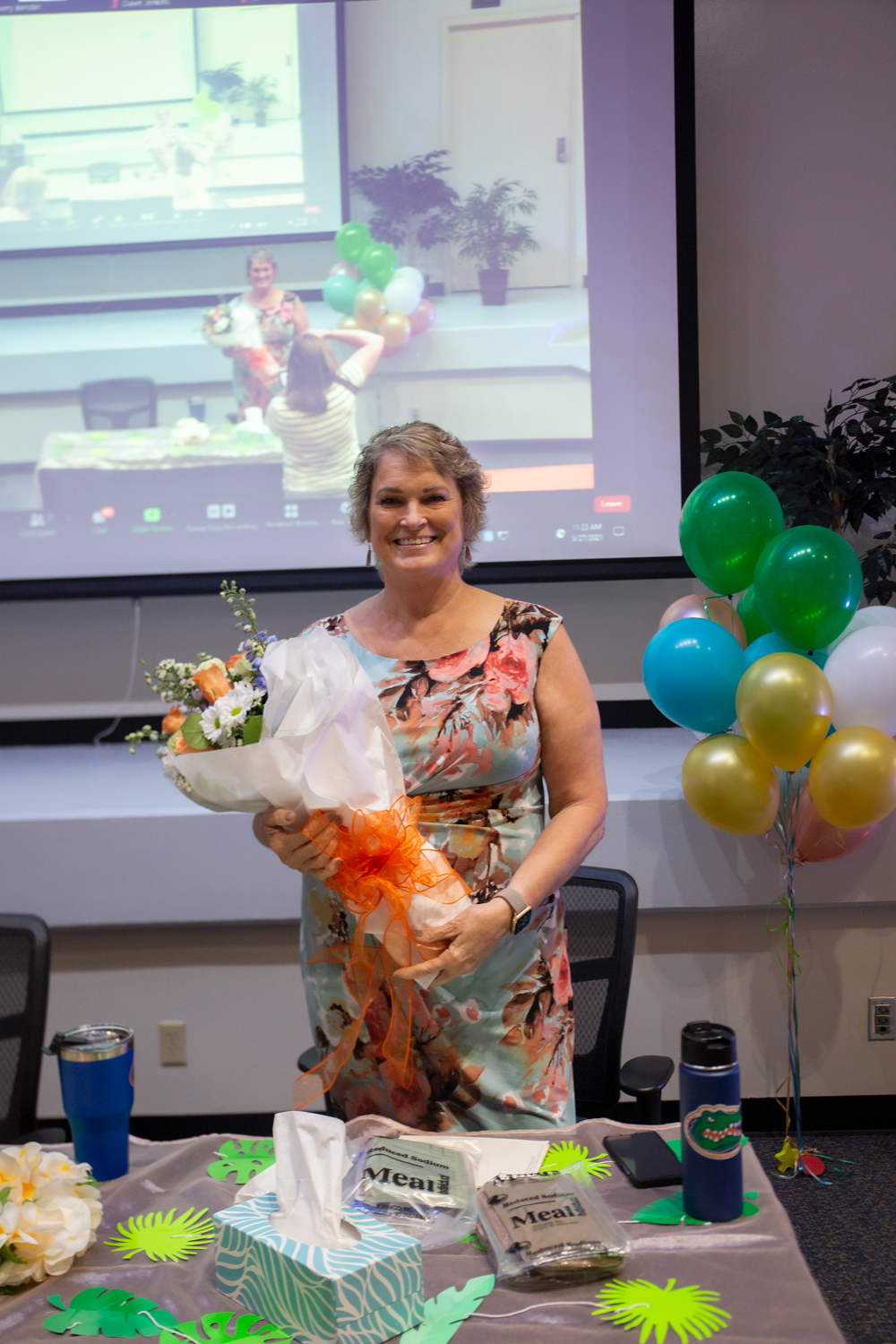 During retirement, Carol plans to:
Sit and relax in her backyard: her "Oasis" with a hot tub!
Go back home to Kentucky. "Home is where you're from, where your family is, and where your roots are." – Carol
Go to Disney
Go to Alaska this summer!
Visit Hawaii over Thanksgiving
Cruise the seas with a friend
Volunteer at her church and Haile's Angels Pet Rescue
When asked what she will miss the most, Carol responded: "The people. The people I work with here. The people I've met around the state."
"I have accomplished nothing. I have had the best people to work with. The best staff." – Carol Hinton
From all of us at OPWD,
thank you Carol!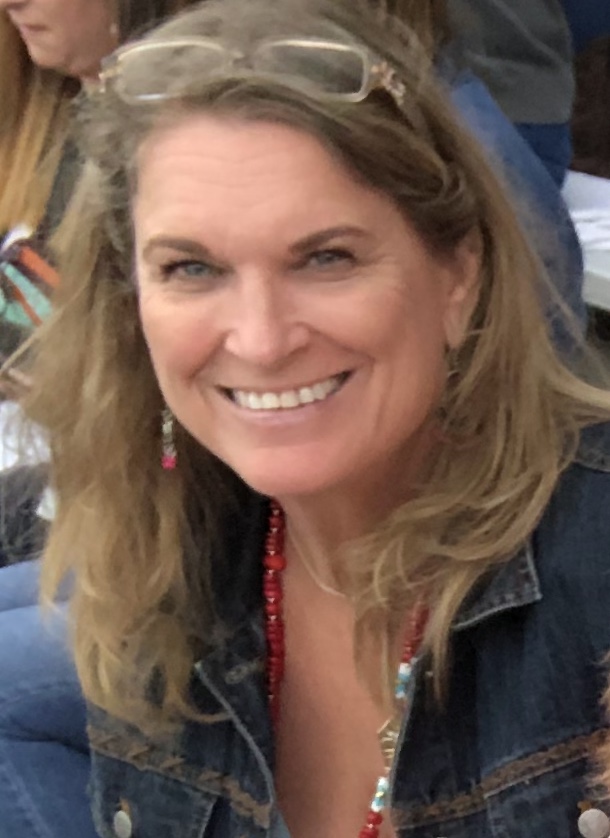 Carol Hinton
Carol Hinton serves as Director of University of Florida Center for Training, Research and Education for Environmental Occupations (UF TREEO). She also serves as the administrator for Florida Water/Wastewater Agency Response Network (FlaWARN) and deploys to the Emergency Operations Center during hurricanes.
She has been employed at UF TREEO for over 30 years (since 1988) and involved with FlaWARN from its inception in 2005.
Carol is a member of the Florida Solid Waste Management Training Committee, Past President of the Florida Section American Water Resources Association, a member of the leadership team for Florida Section American Water Works Association Region IV, Secretary of the Florida Water Environment Association Utility Management Committee and a member the Society of Government Meeting Professionals.
She is a past member of the Green Meeting Industry Council and served as vice-chair for the communication committee for the APEX green meetings standards panel that was tasked with setting standards for green meetings for the US EPA.
Carol is from Kentucky and has a bachelor's degree in marketing and a MBA from Murray State University.
In her free time, Carol enjoys hanging out with her grandkids and traveling. She's a breast cancer survivor, and classifies herself as a crazy dog lady!
Stories, Quotes & Well-wishes for Carol
Hey Carol,
I hope you enjoy retirement and get to spend many hours with your family. I will truly miss you at our gatherings. Thank you for your mentorship, friendship and constant support.
– Steve Fox
Carol, I hope you enjoy your retirement and take plenty of walks along the beach!
– Lauren Troffer
Wishing you the very best for your retirement. I am certainly enjoying mine and hope the same for you. I can honestly say I never have a dull moment. All the best to you!
– Kim Kunihiro
Carol, although our work relationship has been short, it has been such a pleasure getting to know you! I hope in retirement you spend all your time doing what YOU want: being with your pups, spending time with family, traveling, being at the beach. Live it up!
– Courtney Hancock
Would like to wish you the best of Luck and Thank you for all your support throughout the years. Will never forget G& M's in Baltimore. Best Crab Cakes ever. Dont be a Stranger. 🙂
– Marta Keilhauer
Congratulations Carol. I am so very appreciative for your leadership and for all of your support. You have made a big difference in the backflow world and the initiatives you supported will have lasting impacts for years to come. You've helped so many people and though it's a loss for the educational community, your retirement is certainly a gain for the retirement community! Congratulations once again and thank you for all you have done.
– Chip Matthews
I worked with Carol at TREEO back in the late 80's through the mid 90's. She was and has continued throughout her career to be the ultimate team-player. Her judgement and input was excellent. In short, TREEO is losing a most valuable player and I sincerely hope careful consideration will be given to filling her responsibilities. TREEO has a significant mandate due to its conception and subsequent accomplishments. Through Carol's leadership TREEO's leadership in environmental training was embraced and expanded.
On a personal note, Cathy and I wish Carol a long and healthy retirement.
– Jim and Cathy Clifton
Written by:
Courtney Glancy
Published:
May 27, 2021
Keep up with all things OPWD by reading our office updates.
The Office of Professional and Workforce Development (OPWD) supports the Office of Teaching and Technology and the University of Florida in offering non-credit education for adult learners across multiple modalities.
Is there a topic under our umbrella that you would like to learn or see more about? Email Courtney Glancy at courtneyglancy@ufl.edu with your ideas.