Our plan forward
Welcome to the Office of Professional and Workforce Development website outlining how we can all have the safest and most productive courses possible as we work together to combat COVID-19.
Effective immediately, in light of the latest declines in COVID-19 case numbers and new recommendations from the Centers for Disease Control and Prevention and our UF Health experts,, masks are welcome and we express support for those who wish to continue to wear them for their safety or the safety of others. The university will continue to closely monitor the pandemic and — should the situation change — update its approach and/or introduce measures as needed. We encourage everyone to be sensitive to and patient with the preferences of those around you.
UF has transitioned to pre-COVID normal operations for the start of the 2021-2022 academic year on June 28, as previously announced. Changes include returning to pre-pandemic classroom capacity for Summer B and Fall semesters. To view UF's official statement on transitioning to normal campus operations, please visit this site.
Download our 20-Second Hand-washing Guide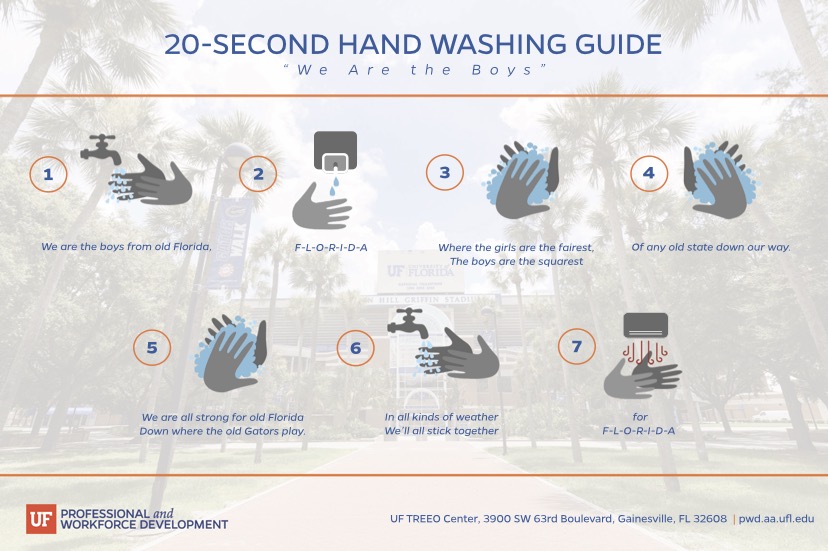 Our Facility
Hand sanitizer dispensers are installed throughout the building and available in classrooms.
All hands-on equipment will be wiped down between student uses.
University of Florida is utilizing TruShot Disinfectant and Clorox Hydrogen Peroxide to wipe down all surfaces and high-touch areas regularly.